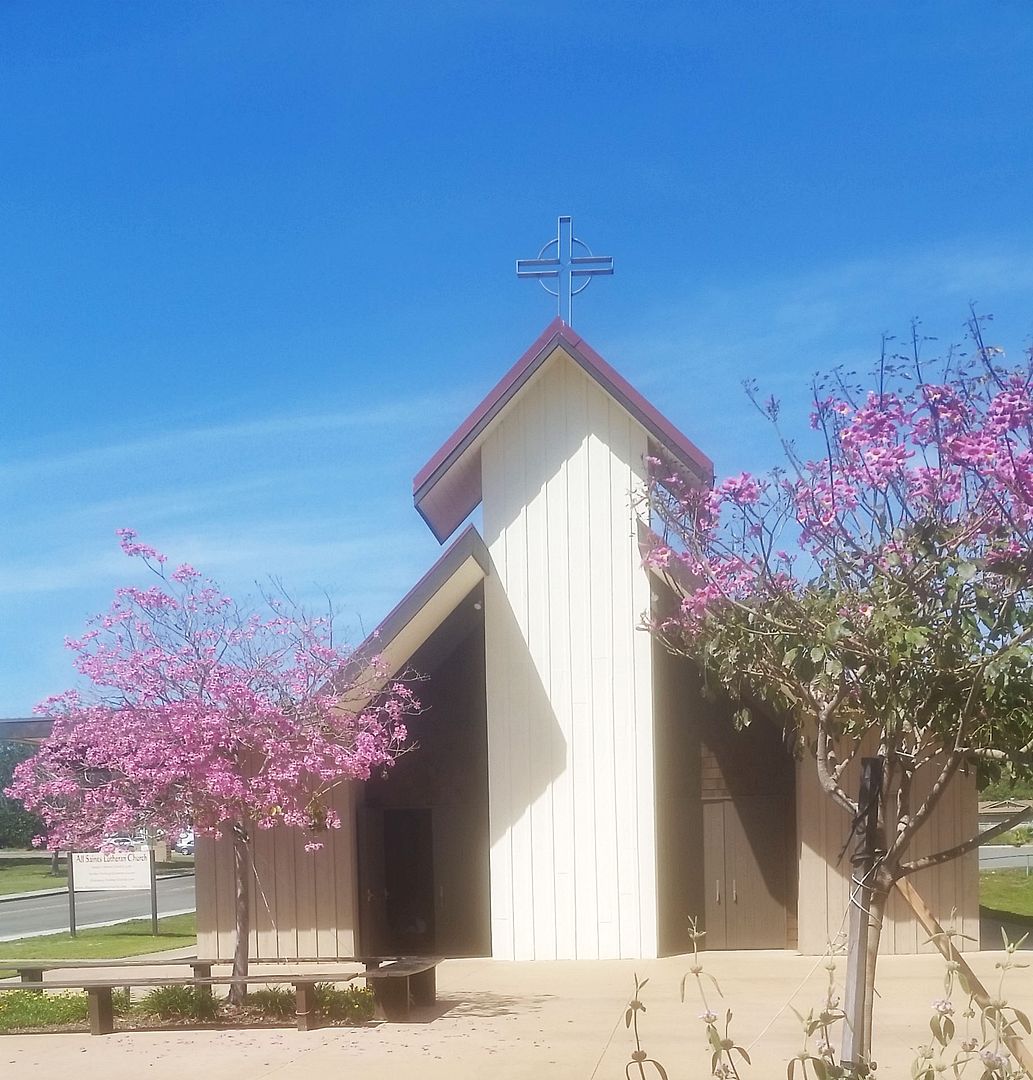 ---
All Saints Lutheran Church, San Diego

6355 Radcliffe Drive, San Diego, California 92122
Church: 858.453.3595 • allstsofc@sbcglobal.net
Preschool: 858.453.5340 • allstspre@sbcglobal.net



March, 2016

FROM THE PASTOR...

Dear Christian Friends,

When the three-year lectionary came into use (1969 for Roman Catholics, the Lectionary for Mass; 1994 for the Revised Common Lectionary read in other liturgical Churches), the readings for Lent, Year A are designed to lead us on a forty day pilgrimage back to the baptismal font at the Easter Vigil. Departing from Year A's focus on the Gospel According to St. Matthew, all of the Lenten Gospels—after Lent I's recounting of Jesus' temptations in the wilderness—are drawn from the Gospel According to St. John. Together they give us a wonderful Lenten immersion in the promises of Holy Baptism:

Lent II, Nicodemus: Jesus tells Nicodemus that he must be born of water and the Spirit. At the font we are born again as children of God.

Lent III, the woman at the well: Jesus offers living water. The grace of Holy Baptism flows through our whole lives.

Lent IV, the man born blind: One ancient title for Holy Baptism is "illumination." In Holy Baptism, God opens our eyes to see the light of Christ illuminating our lives, our relationships, the trajectory of our lives. And this is Rose Sunday, so rejoice!

Lent V, the raising of Lazarus: In Holy Baptism we die with Christ so that, raised with him, we too might live a new life.

These narratives will accompany us on our forty day pilgrimage through the wilderness of Lent, with prayer, fasting, and giving. This time in the wilderness can be a time of grace for us if we trust that the manna of our faith will be enough for each new day. During this holy season, these texts will help us rise above the pressures of routine and utilitarian goals into the freedom of being practicing Christians for at least this tithe of the year.

Grace and peace,

Paul Bieber+, STS, Pastor

---
Lenten Discipline: Prayer, Fasting, Giving
Opportunities for Prayer:
• Wednesdays in Lent: 7 pm, Evening Prayer
• Following the simple soup supper (see below), we gather to pray.
• Fridays in Lent: 12 noon, Stations of the Cross
We are blessed with a worship space the walls of which are adorned with the Stations of the Cross. You are invited to join Pastor Bieber in this traditional devotion. It takes about half an hour.
Your own daily prayerHere's a note about how Craig McJunkin has connected our adult education unit on the suffering Church with his own prayer life:
Dear Brothers and Sisters in Christ,
Since learning of Voice of the Martyrs through "I am 'N,'" I've set up a daily challenge to go to the website, "
I Commit to Pray
," and keep a prayer journal, one prayer a day, for the people on this interminable list of persecuted Christians.
Praying seems like a very small thing, but it reminds me daily of our brothers and sisters across the world in difficult places who keep the faith, and our need to pray for others as encouragement in both directions. It also diminishes my own concerns for my first-world problems. Sometimes it's a slap in the face! I'm not recommending this to assuage some illegitimate guilt for living in such a relatively safe and comfortable place as the USA. I'm not attempting to be patronizing, either. I'm just hoping to encourage my Christian family of the importance of making this a regular commitment.
By the way, sometimes I forget, or put it off because of my busy schedule. I often make it up by doubling prayers each day. But even if I don't, I don't worry about what has already been done or not. With the Lord's help, I just start fresh each day (sound familiar?)
In Christ,
Craig
What is Fasting?
Fasting is learning to live without what I thought I couldn't live without. What is that for you? Food and drink? Electronic connectedness? Entertainment? Try forty days without it.
Opportunities for Giving:
CCSA, the blue pig (children's health), campus ministry (see below), what matters to you, and more.
LENTEN SOUP SUPPERS – WEDNESDAY EVENINGS OF LENT – AT 6:00 P.M.

You don't have to bring soup; you have only to be willing to eat soup.

Come join the fun and fellowship at our Lenten soup suppers each Wednesday as we prepare for Easter. Soup will be served at 6 pm. At 7 pm we move into the worship space to pray. You are encouraged to sign up on Sundays to bring soup on Wednesday. Perhaps you have a family favorite from Lenten seasons long ago that you would like to share. We would also love to have special bread or rolls to round out our simple Lenten meal. Through the years these evenings have become an important part of our life together. Please join us; please bring your family, friends, and neighbors to share in our fellowship.

Midweek Lenten offerings this year will be donated to the
Lutheran-Episcopal Campus Ministry at SDSU (Agapé House)


INDIVIDUAL CONFESSION AND FORGIVENESS--

–is always available by appointment. During Lent, the pastor will be in the church on Saturdays from noon until 1 pm.
Just come in, or wait on a patio bench if someone is with him. If you haven't made this kind of confession before,
you can talk about it first.


Please visit our
Liturgical Ministries page
for schedules of acolytes, deacons, lectors, offertory giftbearers, and coffee hour setup hosts.
What's happening at All Saints? News & Notes is our online newsletter!
---

We Invite You to Join Us!

Sunday Eucharist – 9:00 am
We regard the Church's liturgy as the birthright of the baptized and invite Christians of all ages
to worship as they are able. At the end of the liturgy on the first Sunday of the month,
we encourage children to join the pastor for a children's sermon.

Sunday School and Adult Forum – 10:30 am

Confirmation Classes – 11:15 am every other Sunday

Wednesday Worship – 7:00 pm
• Evening Prayer (Vespers) during Daylight Savings Time
• Compline (Night Prayer) during Standard Time
• Brief Eucharist when a Feast Day falls during the week


---
All Saints is a congregation of the Evangelical Lutheran Church in America and its Pacifica Synod.

We are also a member congregation of the Community Christian Service Agency.
---
Website most recently updated on Monday after Transfiguration – 27 February 2017.