All Saints Preschool • 858.453.5340 • allstspre@sbcglobal.net

---
ALL SAINTS PRESCHOOL NEWS

Greetings!

Our year is rolling right along, I can't believe it is already March.

We have been registering our currently enrolled students through February and will begin enrolling from our wait list in March. It is looking like another strong year for enrollments. I seem to have calls and tours daily with interest in attending our school.

March brings so much fun and when St. Patrick's Day and Easter are back to back, it is a very busy month.

We always have visits from the tricky leprechauns who come in and turn our school upside down and green! The children love making their leprechaun traps, we have never caught one but maybe this will be our lucky year!

We will have Easter celebrations in class with parties and Easter egg hunts. The preschool will be closed March 26-30 for Easter break.

Blessings,
DeeDee Dumont, Director


All Saints Preschool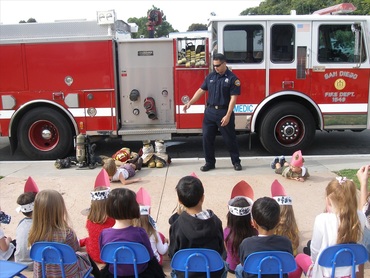 Welcome to All Saints Preschool
, serving the children of our community from ages 2-5 years old. We are a play based developmental preschool, educating the whole child.
Our curriculum
centers on active involvement, creativity and hands on exploration. Some of them are:
Art
— Creative art is offered through paint, collage, color, gluing, and our new outdoor art studio where the possibilities are endless.
Social skills
— learning to share, growing in cooperative play, group time, snack time and taking turns.
Religion
— Christian emphasis including, weekly chapel time with the Pastor, daily meal time prayer and our Christmas program.
Group time
— Coming together for storytelling, sharing and music.
Cooking
— Making snacks, measuring, pouring, mixing and tasting.
Science
— planting in our school gardens, animals, cooking, bug hunting, ant farms, butterflies, exploring and looking
Intellectual
— colors, numbers, shapes, and reading readiness learned through active involvement.
Physical
— small motor development through the use of pencils, scissors, crayons painting and manipulatives. Large motor development through climbing, running, jumping, bikes, dancing and obstacle courses.
Language
— Learning to express needs. Participating in circle times. Using words to solve problems.
Music
— Daily songs, fingerplays and movement activities are offered.
Play
— It's what children do best. Through social play, dramatic play and getting messy.
---
The Outdoor Art Studio

Constructed by Stephen Bieber as his Eagle Scout project! With the pergola overhead providing protection from the sun, the children are able to exercise their creativity while outdoors.
---
For information about preschool enrollment and tuition, please contact the All Saints Preschool
:
allstspre@sbcglobal.net • 858.453.5340
preschool forms downloads
• application for preschool enrollment:
download MS Word doc
• identification and emergency information:
download pdf
• consent for medical treatment:
download pdf
• parents rights:
download pdf
• personal rights:
download pdf
• physicians report:
download pdf
• preadmission health history:
download pdf